About
Our Mission and Vision Statement
Mission Statement
Our mission is to help small and medium size Canadian businesses Grow, Prosper, and Transition.
Vision Statement
Our primary purpose is to provide current and relevant solutions to help our clients reach their goals.  We will continue to be known for our unique and out-of-box thinking that always keeps our clients needs first and foremost.
Who is K.F.M. and what do we believe?
At Knights Financial Management, we believe that every dollar spent in your business should increase your business's bottom line. Whether money is spent on tangible assets or the intangible ones, like employees, there needs to be a measurable difference.
Knights Financial Management is a full service planning company that is looking for small to medium sized companies in Calgary, Red Deer, and Edmonton wanting to ensure their business game plan is efficient and well coordinated. As an independent based company we provide holistic financial game plans that help owners meet their needs, professionally and personally. As your business advisor we help businesses understand how to grow and protect their businesses. To assist owner in becoming more informed John Crosser, the owner of Knights Financial Management, has authored an e-book called "Protecting Those That Run Your Business".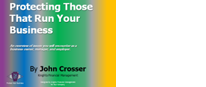 Making a Difference
Not only is John Crosser committed to helping small businesses prosper and grow stronger communities, he is also committed to developing communities through financial literacy and volunteering at The Calgary Dream Centre. John believes an individuals' financial fitness is linked to a better and healthier life and therefore creating stronger and safer communities. To help improve financial literacy with money fundamentals he has written "ASPiRE: A Financial Workbook for the Canadian Teen". As a financial wellness speaker John promotes that in order to make a difference in our family, school, business, community, city, province, and country we must first invest in ourselves.
Visit Knightsfs.ca to Enrol
About KFM's Owner John Crosser
John Crosser, B.Ed, MA. Ed. Admin, As a business owner, group benefit consultant, and financial advisor for the past 10 years John is able to talk with business owners and hr managers about all facilitate of building and maintaining a business.
Combining John's 24 years teaching and coaching career with his passion for financial literacy John is able to communicate efficiently with those wanting to achieve financial goals.
Currently resides in Calgary, Alberta with his wife and two daughters. John loves to golf, build furniture and teach others about personal finance.
John Crosser is an independent licensed insurance and mutual fund agent. He sells mutual funds through Peak Investment Services and insurance products through PPI Insurance solutions.